18 Sites To Download Professional Blogger Templates For Free
Blogger was started by a tiny company in San Francisco called Pyra Labs in August of 1999. Google purchased Blogger in 2002 and it is focusing on helping people have their own voice on the web and organizing the world's information from the personal perspective.
Blogs can be used for many things like updating your friends and family about your life, giving your own advice column, discussing your political views, or relating your experience in a topic of interest.
Its very easy to setup a Blogger account:
1- Create an account
2- Name your blog
3- Choose a template
There are many templates offered by Blogger and many other companies / individuals / bloggers are offering free and premium blogger templates. Today, Greepit is sharing a list of sites that offers Professional Blogger Templates for free.
The Blog Templates
Blog Crowds
Blog and Web
Blogger Buster
Deluxe Templates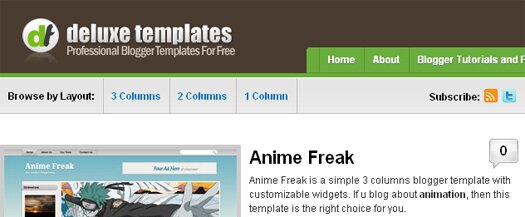 BTemplates
BloggerTemplatesFree
bie-templates

Blogger Blog Templates
Blogger Styles
eBlog Templates
Blogger Tricks

Templates Block
Free Blogger Templates – ipietoon
Quite Random
Blogger Templates

Fresh Blogger Templates
Yummy Lolly