Browsing articles tagged with " Web Application"
OpenEMR is a Free & Open Source Medical Practice Management, Electronic Medical Records, Prescription Writing, and Medical Billing Application. It includes electronic health records, scheduling software, insurance billing, accounting, and fine-grained access controls. It is a Free & Open Source replacement for medical applications such as Medical Manager, Health Pro, and Misys.
OpenEMR mission is to work together to create a high-quality electronic medical record and medical practice management software.
HESK is a free Help Desk Software written in PHP/MySQL. It allows webmaster to setup a ticket support system on their Web site. It has all the features the big and expensive help desks have, but it's user-friendly, lightweight and free. HESK.com also offers a remotely hosted help desk for a small monthly fee.
Read the rest of this entry »

WebSVN is an Open Source & Web Based Subversion Repository Application that offers an easy browsing for your subversion repositories. You can view the log of any file or directory and see a list of all the files changed, added or deleted in any given revision. You can also view the differences between two versions of a file so as to see exactly what was changed in a particular revision.
triage is an Open Source Web Based Help Desk Application written in Java using Hibernate and ZK libraries. This web based help desk application provides interfaces for handling tickets with notes and solutions, full-text search indexing, and allowing for plug-ins which can generate tickets from external sources (i.e. Asterisk, OpenNMS, Nagios, IMAP, POP3, etc..).

Rich Text Editor is a Free Text Editor specially designed for .Net Applications. This simple rich text editor is written for ASP .Net.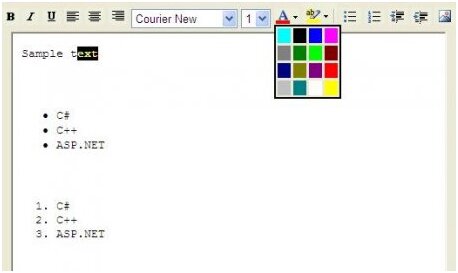 Rich Text Editor is very easy to use and can be integrated with minimum effort. This can be modified and used free of cost. Any changes made shall be checked in so that other users may use the enhanced code.
Website: http://richtext-editor.sourceforge.net/
Trellis Desk is a powerful and Free Online Help Desk Software for your business. It Improves your company's service by allowing your customers to quickly and easily submit support tickets to your team.

Editra is a Multi Platform Free Text Editor with an implementation that focuses on creating an easy to use interface and features that aid in code development. Currently it supports syntax highlighting and variety of other useful features for over 60 programming languages.
Editra is a general purpose programmers text editor. What this means is that like how a word processor helps you to create essays and articles in a quick and efficient manner, Editra will help you to edit and create accurate code. This section of the guide is meant to give a quick overview of configuring Editra to your preferences.

Rich Internet Applications, Made Simple! That is the motto of ThinWire. ThinWire is a community driven LGPL open source development framework that allows you to easily build applications for the web that have responsive, expressive & interactive user interfaces. Use ThinWire to handle the view-layer of your Java EE (J2EE) application and you'll be able to provide an unparalleled user experience, while at the same time completing your project faster than ever.

JibberBook is easy to use, Open Source PHP and Javascript based Guestbook. It aims to create a pleasant user experience while giving you much flexibility. A very friendly user interface with ajax implemented, so no more page load hassles.

An Open Source Invoicing and Billing Software to handle Invoicing and Billing needs of your business. Siwapp is a free web application help to manage and create invoices in a simple and straightforward way.
This free web application for invoicing and billing will also be able to work as a module -interconnected through its API to many other business management applications- which takes care -the easy way- only of the billing of the company.